HuntoLive Headquarters, Argus, Mistral.
A new fad among young people in social media and content viewing platforms is taking over Remnant by storm and it's called V-Huntresses. Short for Virtual Huntresses, V-Huntresses appear as elaborate moving drawings or even three-dimensional models on screen and play out their actresses' motions and voice. They perform live in front of a camera, usually playing video-games, acting out scenes with other V-Huntresses or simply talking in front of an imaginative background.
The first V-Huntress to gain mass notoriety comes from Argus in Mistral and was named Penny AI. She was modeled after the dead robotic Vytal tournament contestant Penny. After she was asked by a fan if she's the same Penny people saw get brutally dismember by an Argus-born student, Penny AI laughed and in an adorable voice said: "Yeah, but I got better!" Doubtlessly, the V-Huntress was just someone pretending to be the Atlesian robot, however, in a strange turn of events the real Penny was actually rebuilt and is still terrorizing people as an awful criminal to this day.
V-Huntresses are based on both fictional personas and real people (even if they're not a huntress), however the ones based on actual licensed huntresses are the most popular ones, most likely following the trend set by Penny AI. This has raised some concerns by their viewers, which were quickly forgotten as the cute avatar screamed an expletive in a funny voice.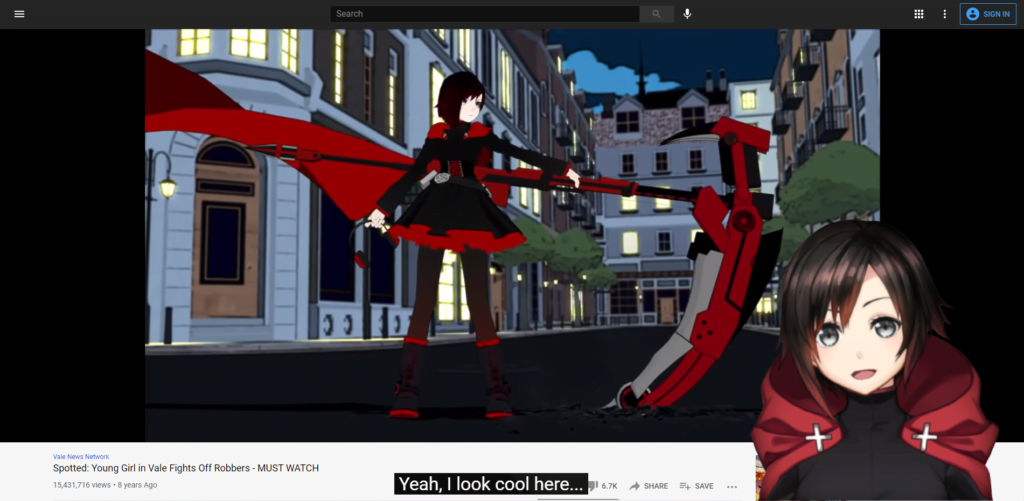 The creation and management of such fictional personas is usually undertaken by companies, the biggest of which is HuntoLive, also based in Argus. We talked to the chief manager of staff, Midori, about the company and its stars. Strangely, when we were supposed to meet him in the HuntoLive meeting room, we were greeted by a large TV with Midori's face as a moving two-dimensional avatar.
"We're hosting a group of young and extremely talented individuals, each with their own personalities and quirks. You're sure to find whatever tickles your fancy," Midori said, while eerily moving his eyelids asynchronously. "Think of them like Mistral's favorite pop idols, but virtual and with more swearing."
We also asked Midori about the legal and ethical questions of using the resemblances of living huntresses. He responded by opening his mouth uncomfortably wide in surprise and holding that position for a while, after which he resumed to actually voice the answer. "As Penny AI started the trend, it was perfectly legal. You can only steal the likeness of a living human or a Faunus, but Penny was a robot, and not a patented one at that. Therefore, the original creator of Penny AI was in the clear. When HuntoLive started, the local Mistral laws coincidentally changed and began allowing to use a person's likeness as long as you don't use their name! Lucky," said Midori, while fist-pumping or performing a similar-looking action with his jittery hands.
The rise of the V-Huntress could be attributed to both the talent of the authors and their unique form of content. While they usually livestream content for thousands of viewers, some stand-alone clips of a few seconds of the stream have already got millions of views on ScrollShare and similar social media websites. For example, the classic moment of Penny AI losing in what appears to be a some sort of a video-game, possibly for children: